This is the first in a series of product spotlights we will be doing on the forums. This first product Spotlight is on the Design Wash LED 60.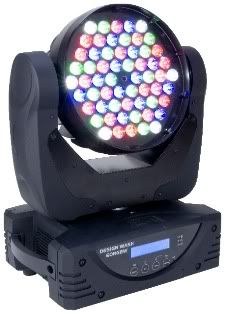 The Design Wash LED 60 is a small, compact, lightweight moving head Wash. It is smaller, brighter, and faster than a traditional 250watt moving head wash. It features a 15 degree lens with a 9 degree beam angle.
It has a 16 bit pan and tilt motors with a user selectable 630 or 540 pan degree rotation and a 265 tilt angle. The LED's are Flicker free and are rated to last 100,000 hours! Users can select between 11 DMX channels (8 bit pan/tilt) or 13 DMX channels (16 bit pan/tilt). The size of the Design Wash LED 60 is (LxWxH): 16.5" x 12.5" x 19" / 420 x 320 x 480 mm. With a total weight of 16.75 lbs or 7.6 Kg. Max Power usage is 220 watts. Take a look at the video to see this fixture in action.
If you have any questions about this fixture please post in this thread.